Other Joe McGee books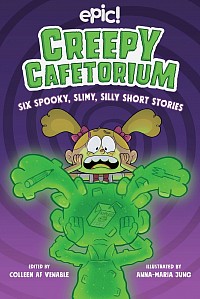 CREEPY CAFETORIUM 
Anthology Volume #1
Andrews McMeel Publishing
From Epic Originals comes a collection of illustrated stories serving up spooky thrills and plenty of laughs. When the lunch bell rings at Newville Elementary, you can bet that things are about to get WEIRD!
Welcome to the Cafetorium! It's a cafeteria, a gymnasium, and possibly a portal to a world where cube-shaped mashed potatoes are plotting against the almost-definitely-robotic lunch staff. Join Liz Dawson, Declan, Remy, and the rest of Newville Elementary as they learn that when you have plans in the Cafetorium, the Cafetorium has plans for you, too!


My story, The Gelatinous Twin, is one of the stories in this anthology!