Fun Stuff for Kids! 
Win a full set of Night Frights books! 
Want to win some NIGHT FRIGHTS books!? 
Send a drawing of your favorite monster to me at:
NIGHT FRIGHTS Contest
P.O. Box 221
Old Fields, WV, 26845
It can be a monster you create, or maybe a monster from a book, show, or movie…use your imagination! Be sure to give your monster a name!
I'll draw two random winners from all of the monsters I get and those winners will get copies of the first three Night Frights books plus, the newest Night Frights book - The Squirrels Have Gone Nuts! 
Contest runs from August 1st - September 5th.
Be an honorary Junior Monster Scout!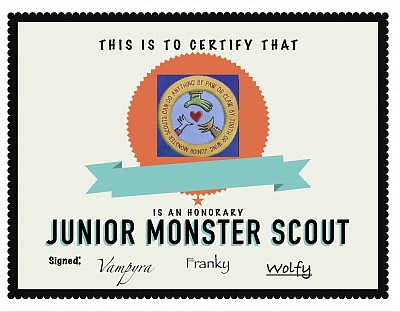 Click here to download an official honorary Junior Monster Scouts certificate, signed by Vampyra, Wolfy, and Franky! Fill your name in on the banner and hang it up for all to see!